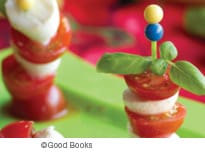 Dietitian's tip:

This kid-friendly recipe is quick and easy for young cooks to prepare with just a little help from an adult.

Serves 5

Ingredients
8 ounces fresh part-skim mozzarella balls, about 15 balls
8 ounces grape or cherry tomatoes, about 10 tomatoes
10 large fresh basil leaves
10 fun party picks or any long toothpicks
Balsamic vinegar (optional)
Directions

Cut each mozzarella ball in half. Set aside. Then cut the tomatoes in half and set them aside too. Tear each basil leaf into 3 or 4 pieces.

Stick the sharp end of a pick through one basil leaf. Then add a tomato half to the pick. After that, add half a mozzarella ball. Repeat by adding another tomato half, followed by another mozzarella half and finish with one more tomato half. Fill 9 more toothpicks in this way.

Eat as is or sprinkle a little vinegar on first.

Nutritional analysis per serving

Serving size : 2 items
Total carbohydrate 3 g
Dietary fiber 0.6 g
Sodium 284 mg
Saturated fat 5 g
Total fat 7 g
Trans fat 0
Cholesterol 23 mg
Protein 12 g
Monounsaturated fat 2 g
Calories 123
Sugars 0

This recipe is one of 50 collected in "The Mayo Clinic Kids' Cookbook," published by Good Books and available in bookstores.